aida_admin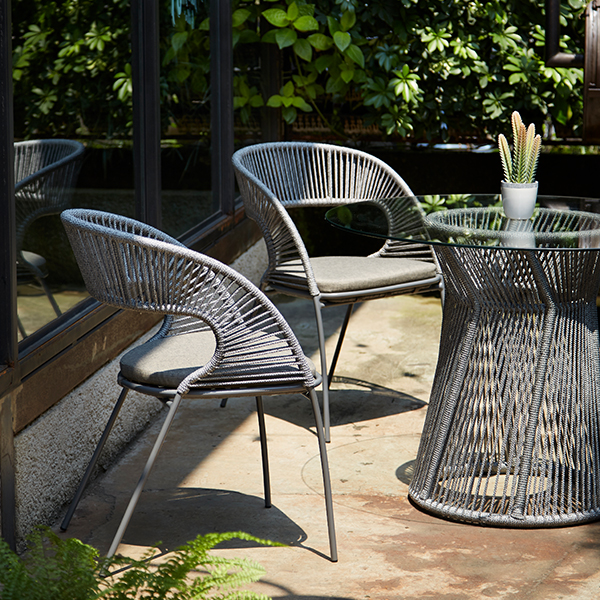 Outdoor Product List   |   Indoor Product List
More Information
Name CORDA taken from Italian words for ropes. CORDA is one of the first chair designed by VIVERE which using ropes materials.
Key features in this products are the curvy shape of the chair and the usage of ropes material.
Choosing outdoor furniture isn't easy. You need something that combines comfort, low maintenance and not just good looks, but the right kind of good looks. Here in VIVERE, we know your needs for this kind and type of outdoor furniture, take a look to our Outdoor Furniture Series! Made using hi-quality outdoor materials such as ropes and metals. Our braided & twisted ropes are made using polypropylene materials. Which recyclable and nature-friendly. Our outdoor furniture series are able to provide aesthetically pleasing and best furniture solution for both indoor and outdoor space.
Dimension:
CORDA Side Chair: 500 (W) x 620 (D) x 800 (H)
CORDA Arm Chair: 540 (W) x 580 (D) x 900 (H)
CORDA Dining Table: 560 (W) x 550 (D) x 740 (H)
Materials:
• Metal pipe frame & legs
• Black U epoxy frame finishing
• White cream color ropes
• Outdoor fabric
• Nylon weaving
Ropes Care:
• Wipe clean with a soft, dry cloth
• Don't rub dirt or spills
• Avoid the use of chemicals and household cleaners as they may damage the finish.
• Use product as it has to be
• Spot clean with a damp cloth or use special cleaning liquid for sofa fabric with dry cloth or sponge
• Don't rub dirt or spills