PT. AIDA RATTAN INDUSTRY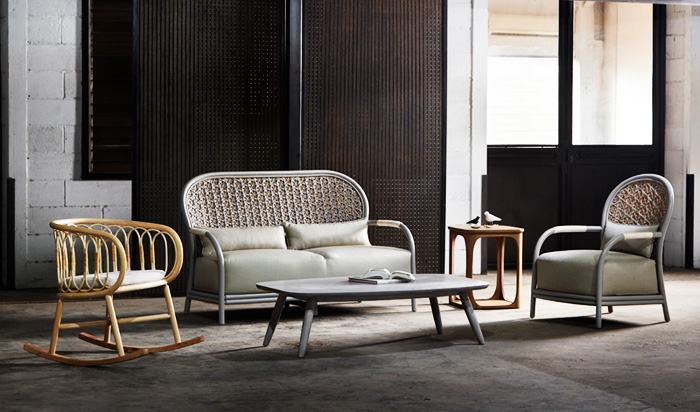 PT AIDA Rattan Industry is established in 2003 with main strength and specialization in rattan processing. On 1 st of June, 2004 the new factory of PT AIDA Rattan Industry was inaugurated in Cirebon, West Java. It is a part of VIVERE Group, a company that has more than 30 years of experience in Indonesia for interior and furniture solution.
AIDA offers a broad range of high quality rattan furniture to serve international customers worldwide. AIDA collections range from garden furniture, furniture for all interior areas including living room (rattan coffee table, rattan chair, rattan couch, rattan sofa, etc) , dining room, bedroom, to wardrobes, spa, accessories, and many more. AIDA caters local and export markets, with clients all over the globe.
FACTORY
AIDA factory is situated in Cirebon , occupied 10,000 sqm. of land area and 5,000 sqm. of factory building. Besides rattan industry, numerous industries like cement, textile, traditional batik and oil industry can be found in the surrounding area.
PT AIDA Rattan Industry
Block Duku Setu, Desa Bodesari
Plumbon, Cirebon West Java
Telp. +62 231 324 556 (hunting)
Fax. +62 231 324 557
E-mail : info@aida-rattan.co.id
OUR DESIGNERS

1. (Late) Irvan Noe'man (1957 – 2015)
He is a creative activist and intellectual, who founded the BD+A Design that specialize in cross design expertise Product Design and Innovations, Industrial Design, Visual – Graphic Design, Space and Retail Identity, and Brand & Corporate Identity. In 2011 VIVERE Start to collaborate with him to develop modern furniture with new design concept for the local market. Its an honor to VIVERE to have the opportunity to learn and work together with maestro himself.
2. ANJA Design Group
A Design group formed in early 2012, Initiated by Rina Renville an Indonesia professional designer who has passion in furniture and also Indonesia material. With 5 of her friends, Febrie Ikhsan, Mutia Diah Pratiwi, Ilhamia Nuantika, Jodie Darmawan, and Arlinda Hapasawardhani, they formed a design group named ANJA, focused and specialised on rattan design. All of the group members already have many experience and achievement in design industry. And with this collaboration with VIVERE, we believe series from ANJA will bring Indonesian rattan to the next level.
3. Abie Abdillah
Born in Bandung, 3rd December 1986, An Indonesian designer alumnus from ITB. Young and creative designer who has a lot of achievement not just in Indonesian but he has travel abroad Asia & Europe. Latest achievement he got was "Rising Design Talents, Indonesia Delegation, Maison et Objet Asia" at Marina Bay Sands, Singapore and "Winner Most Potential Start Up Business Shell Livewire Indonesia". With his many experience and design ideas, he made Indonesian rattan to International stage
 4. Alvin Tirtowirjo
Has been in the creative industry since 2006. With a vision to advocate contemporary Indonesian design, Alvin is now running a brand named AlvinT that offering product design and interior design services, art direction services, on top of its furniture business. His mission is to raise global awareness and offer a tangible experience through which people can recognize and appreciate the delicate and timeless beauty of Indonesian art and history. He is committed to producing original designs with a touch of the avant-garde. Therefore, investing in innovation is its continuous effort in order to remain relevant.
CONTACT US
Come and see our AIDA collection for yourself in our newly opened showroom in Cirebon, Indonesia. Here you can test our furniture by sitting on it to your heart's content and see its high quality with your own eyes.
We look forward to your visit !